The A course is aimed at those who previously completed their A2 (Restricted Access) certification at least 2 years ago and wish to remove the restrictions from their licence.
Completing the Progressive Access course allows a 21 year old to obtain a fully unrestricted licence provided that they completed their A2 licence at 19.
CSN offers courses which take place over multiple consecutive days, or over several weekends whichever best fits your needs.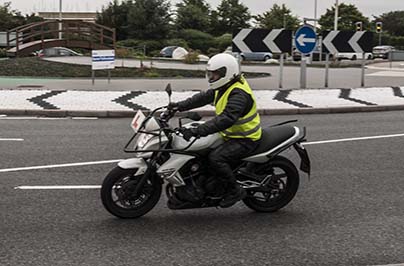 Our courses range from 2 to 5 days, dependant on your experience. The course focuses on bringing you up to test standard on a big bike.
Contact us now to book a 1h Assessment where one of our instructors can advise you on which course is best for you.
Tests
All motorcycle tests are split into two parts, known as the Module 1 and Module 2 tests. The Module 1 test involves demonstrating basic riding capability to a DSA examiner on a closed circuit and generally takes 20 minutes.
The Module 2 test involves at least 30minutes of on-road testing with a DSA examiner where you must demonstrate all of techniques needed to be a safe, legal and capable rider.

QUICK REFERENCE
Prerequisites
Must be at least 21 years old.
A2 licence held for at least 2 years.
What's Involved?
2 to 5 days intensive course.
Learn on a 600cc
Complete with a DSA exam.
What you get.
No motorcycle restrictions.
No L-Plates required.
Can take passengers.
Can use motorways.