If you are aged 24 or over, you are eligible for the Direct Access Scheme (DAS), upon completion of a practical test you're awarded a Category A licence, allowing you to ride a motorcycle of any size.
Unlike learning to drive a car, most motorcycle training is completed through an intensive course which is spread over multiple days. CSN offers Direct Access courses where training can take place over multiple consecutive days, or over several weekends; whichever best fits your needs.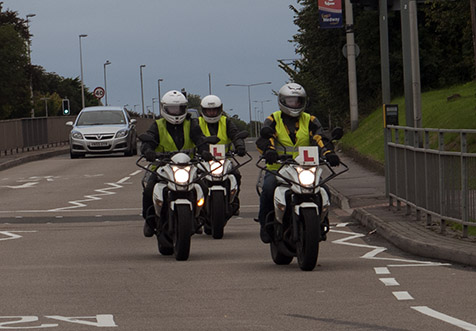 Gaining a full motorcycle licence can take between 2 and 6 days, depending on your previous motorcycle and other experience. Our 3 day course suits those with existing road licences and/or riding experience where as a student with no previous motorcycle or road experience may take up to 6 days of training from start to finish.
The first day of training always involves completing a CBT on a 125cc (for those who are not already certified) which is included in all prices. Those who require more than the minimum of 3 days will complete additional post-CBT training before moving onto the DAS course. with these final days taking place primarily out on the road on one of our Kawasaki Z650s.
Contact us now to book a 1h Assessment where one of our instructors can advise you on which course is best for you.
Tests
All motorcycle tests are split into two parts, know as the Module 1 and Module 2 tests. The Module 1 test involves demonstrating basic riding capability to a DSA examiner on a closed circuit and generally takes 20 minutes.
The Module 2 test involves at least 30minutes of on-road testing with a DSA examiner where you must demonstrate all of techniques needed to be a safe, legal and capable rider.
QUICK REFERENCE
Prerequisites
Must be at least 24 years old.
CBT Certificate.
Theory Test Certificate.
What's Involved?
2 to 6 days intensive course.
Learn on a 650cc
Complete with a DSA exam.
What you get.
No motorcycle restrictions.
No L-Plates required.
Can take passengers.
Can use motorways.