We offer 
C
ompulsory 
B
asic 
T
raining courses 7 days a week, at a fully inclusive price of £150. Bike hire and insurance.  Don't worry if you've never ridden before, the CBT is not a test, rather training with continual assessment tailored to each student. A CBT is perfect for someone looking to ride a moped, scooter or small motorcycle.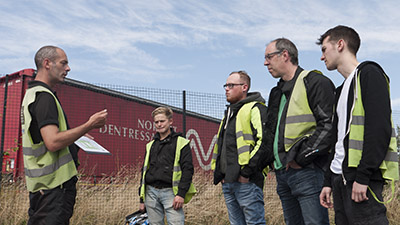 If you are planning to obtain a full motorcycle licence, please note that all of our courses include a CBT on the first day where needed.  If this is the case, we recommend you visit us for a
1h assessment
 where one of our instructors can help you find the right course.
About the Training
Throughout the day you will be walked through each of the individual requirements that make up the five CBT modules, for each one you must demonstrate you are competent and safe. Once you complete all 5 modules you are issued with a DL196 certificate which is valid for 2 years and will allow you to ride up to a 125cc (depending on your age) with L plates, on the road and unattended.
If you are unable to reach the required standard on the day of your training, additional days are charged at £75.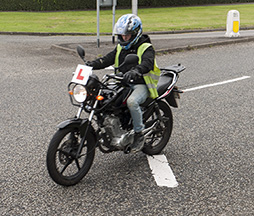 How to book
Contact us via phone (during office hours, 7 days a week) or email.  Alternatively visit our contact page to send us a message and one of our team will get back to you as soon as possible.
What you Need:
To be at least 16 years of age (on the date of your CBT)
Have a Full UK Car licence, or provisional (with Category A Entitlement)
Sturdy Footwear (Motorcycle Boots, Doc Martens or similar preferable)
Glasses if you need them
Highway Code knowledge
The Five Modules of a CBT
Module A (Office)
Aims of the training course
Basic eyesight check
Equipment and clothing
Module C (Off-Road)
On-site riding
Moving off, stopping and cornering
Gear Changing
Slow Control
Emergency Stop
Module B (Outside)
Controls, machine checks
Balance and breaking
Starting and stopping the engine
Module D (Office)
Road Briefing
Legal requirements
Road Safety
Highway Code
Module E (On-Road)
On-road tuition with your instructor (with a maximum of 2:1 Student/Instructor ratio), with further training on practical application of each of the previous modules, practising everything you have learned.
**Using your Own bike
We're happy for you to use your own bike for your CBT which can save you some money and we'll make sure your training includes the specifics of the controls and machine checks for your own bike. You'll need to arrange getting your bike to us. In order to use your own bike, you must have and bring with you:
Make sure the tank is full so as to not interrupt your training!
Valid MOT Certificate if the bike is over 3 years old
Valid Insurance Certificate
Fitted L-Plates on the front and Rear
Fitted Mirrors
*Anyone who obtained a full car licence before 1 February 2001 already holds moped entitlement and are not required to complete a CBT.
QUICK REFERENCE
Prerequisites
UK Driving licence with Cat A*
Must be at least 16 years old.
What's Involved?
Normally a one day course.
Learn on a 50cc (16).
Learn on a 125cc (17+).
What you get.
Valid for 2 years.
Must display L-Plates.
Ride up to 50cc at 16.
Ride up to a 125cc at 17+
* You do not need to take a CBT if you passed a car driving test before 1st February 2001.