The A2 certification is for anyone over 19 years old but not yet 24 (or simply want to be licenced to ride less powerful bikes). Upon completion you are able to ride the following:
Any Motorcycle up to 35kW. For Example the Honda CB500x
Any Larger Motorcycle which has been restricted to 45bhp (so long as its original power was not over 90bhp). For Example the Kawasaki ER6-F
Unlike learning to drive a car, most motorcycle training is completed through an intensive course which is spread over multiple days. CSN offers courses which take place over multiple consecutive days, or over several weekends, whichever best fits your needs.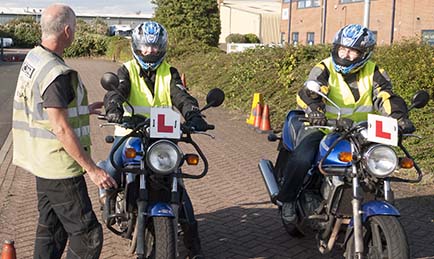 Our courses range from 3 to 5 days, dependant on your previous motorcycle experience. Our 3 day course suits those with previous road and motorcycle experience whereas our 5 day course is more suited to first time riders.
The first day of training always involves completing a CBT on a 125cc (for those who are not already certified) which is included in all prices. The final days take place primarily out on the road on one of our Kawasaki Z400 or restricted Z650.
Contact us now to book a 1h Assessment where one of our instructors can advise you on which course is best for you.
Tests
All motorcycle tests are split into two parts, known as the Module 1 and Module 2 tests. The Module 1 test involves demonstrating basic riding capability to a DSA examiner on a closed circuit and generally takes 20 minutes.
The Module 2 test involves at least 30 minutes of on-road testing with a DSA examiner where you must demonstrate all of techniques needed to be a safe, legal and capable rider.
QUICK REFERENCE
Prerequisites
Must be at least 19 years old.
CBT Certificate.
Theory Test Certificate.
What's Involved?
2 to 5 days intensive course.
Start on a 125cc.
Progress to restricted 650cc.
Complete with a DSA exam.
What you get.
Ride up to 35kW*.
No L-Plates required.
Can take passengers.
Can use motorways.
* More powerful bikes can be restricted provided that the original power was under 90bhp.